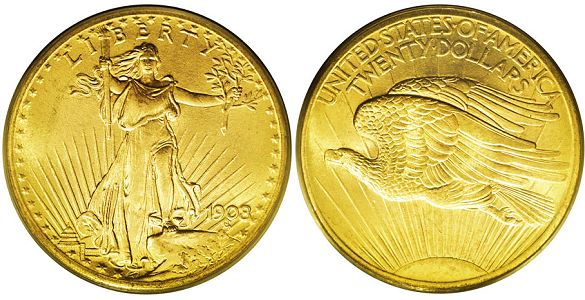 BY STEVE DINNEN | via dsm Magazine Wealth
Gold seems to like bad news. On three consecutive days of poor economic news in January, the spot price of gold rose. On the fourth day, when there was good news, gold fell.
Well, these days certainly are trending toward poor, between the rout of the stock market and the economy shuttering over the coronavirus pandemic. So should you now make gold a part of your portfolio, and hope to cash in on pending bad times?
Maybe not.
"It's actually collapsed," Jerry Koepp, owner of Coins Stamps "N" Stuff, in Urbandale, says of an early March sell-off in gold. Experts say gold owners were actually selling their stakes in order to cover margin calls on stocks that have declined precipitously this past month. So unlike rough times in the past, gold has not shot up dramatically in value. The precious metal has recovered somewhat and now costs $1,529.72 an ounce, a mere 82 cents more than it did when the year started.
Writing in the Economic Times, Value Research CEO Dhirendra Kumar said late last year that gold as an investment makes sense "only for those who have no access to or no trust in the financial system, or expect to be in such a situation." He disfavors ownership of physical gold, preferring instead "paper gold," or mutual funds. Exchange-traded funds (ETFs) might, in fact, be a better play as they carry trading advantages over funds.
Gold-based mutual funds include U.S. Global Investors Gold and Precious Metals Fund (USERX), and its World Precious Metals Fund (UNWPX). ETFs include Van Eck Vectors Gold Miners (GDX) and iShares Gold Trust (IAU). Both of those investment vehicles will own positions in gold and precious metals mining companies. If you wish to go directly to the source, you can always can buy shares in mines such as Barrick (GOLD), Newmont (NEM) or Franco Nevada (FNV).
And if you really want to zero in on gold, talk to Koepp about buying some of the gold coins his firm offers. (There's no sales tax in Iowa on purchases of precious metals.) Collectors and speculators alike are fond of the Canadian Maple Leaf coin, which contains 1 ounce of gold.
For his money, Koepp prefers U.S. $20 gold piece coins minted before 1933. They have just the right amount of gold in them and currently sell for only about 4% over their melt value, or what the gold content is worth if the coins were to be melted.