'Time will tell over the next week or two how that picture looks,' one state official said.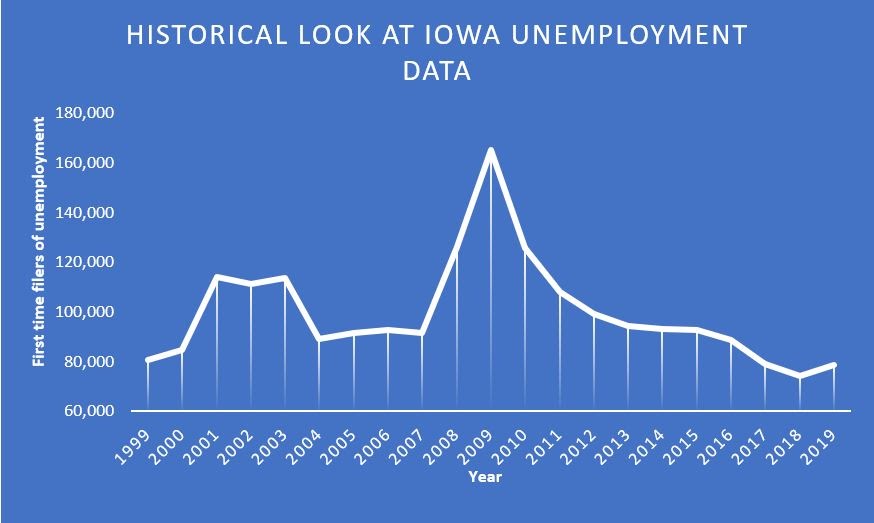 Iowa officials are bracing for a sharp rise in first-time claims for unemployment, but for now are not publicly sharing how many claims they expect to be filed.

On Tuesday, Iowa Gov. Kim Reynolds ordered the closure of restaurants, bars, fitness centers and other businesses in the state in an effort to slow the spread of the coronavirus, a highly contagious respiratory disease. Others, like some retail stores, hotels and manufacturing plants, have shuttered their doors even though they haven't been ordered to do so.

According to Iowa Workforce Development data, more than 300,785 Iowans are employed in three industries hardest hit by the closures: restaurants and bars, hotel and leisure, and retail.

If just one-fourth of those workers file for unemployment, the state's unemployment rate would surge to nearly 10%. In the past 20 years, the highest the state's unemployment rate has been is 6.4%, according to state data. That occurred in 2009, at the height of the Great Recession when 165,030 Iowans filed first-time unemployment claims.

"Time will tell over the next week or two how that picture looks," Ryan West, deputy director of Iowa Workforce Development, said today in an interview with the Business Record. "This week has been just an interesting week from the standpoint that every couple of hours there was a different business altering how they were conducting business."

For the week that ended March 14, 2,229 new unemployment claims were filed, just a few more than the 2,221 new claims filed the week ending March 7, Iowa Workforce Development data shows.

Nationally, unemployment claims surged the week ending March 14, with a 30% increase in new claims filed, according to U.S. Department of Labor data released on Thursday. Overall, new claims totaled 281,000 nationally.

Steven Mnuchin, the U.S. treasury secretary, warned this week that nationally, the percentage of unemployed Americans could reach 20%.

"I don't know if we have a good idea of that or not, but if it happens, we're talking about Great Depression levels of unemployment," said Thomas Root, an associate professor of finance at Drake University.

Root, however, said there are differences between the depression that occurred between 1929 and 1933, and now.

Businesses could start to reopen in early April, bringing workers back to work, he said. "The question is 'how long can a business weather being closed,' particularly a business like a restaurant. If they can't weather the storm, it will take people longer to get back to work."

Once businesses begin to reopen, consumers will likely return to spending, Root said. "Then the unemployment claims will drop back to, hopefully, where we started."

The federal government has said it plans on sending checks to residents in the U.S. If that happens, it will help the unemployed get through this period, Root said. "It will definitely help offset their costs in the short term."

Some businesses like Walmart have announced plans to hire additional workers to help work in stores and distribution and fulfillment centers. Domino's is hiring thousands of people to make and deliver pizzas.

Other companies, such as the financial and insurance businesses, are continuing to hire workers, said West of Workforce Development. "We've had employers reach out and say that they are looking for workers."

West said he expects to see a substantial increase in unemployment claims. He said he expects the state's online system to be able to handle the increased traffic.

"We're monitoring that closely," he said. "One of the things that gives us an advantage is that we have real good experience in these areas. We have a staff that has been through this before in [2009]."

This week the state loosened its guidelines for qualifying for unemployment benefits. Workers who self-isolate or who, for COVID-19-related reasons, are caring for family members are eligible to receive benefits as long as they meet other eligibility guidelines. The state temporarily dropped the requirement for unemployed Iowans to search for work while receiving benefits.

"We are encouraging people to file as soon as possible," West said. "We're here to help folks file for unemployment and to help them get a job.

"I don't think we know how long this is going to last. But once we get people into the system, deposit money into their accounts, then we can move to the next part. There's jobs out there. …We will get through this."

More online
For information on how to file for unemployment, click here.