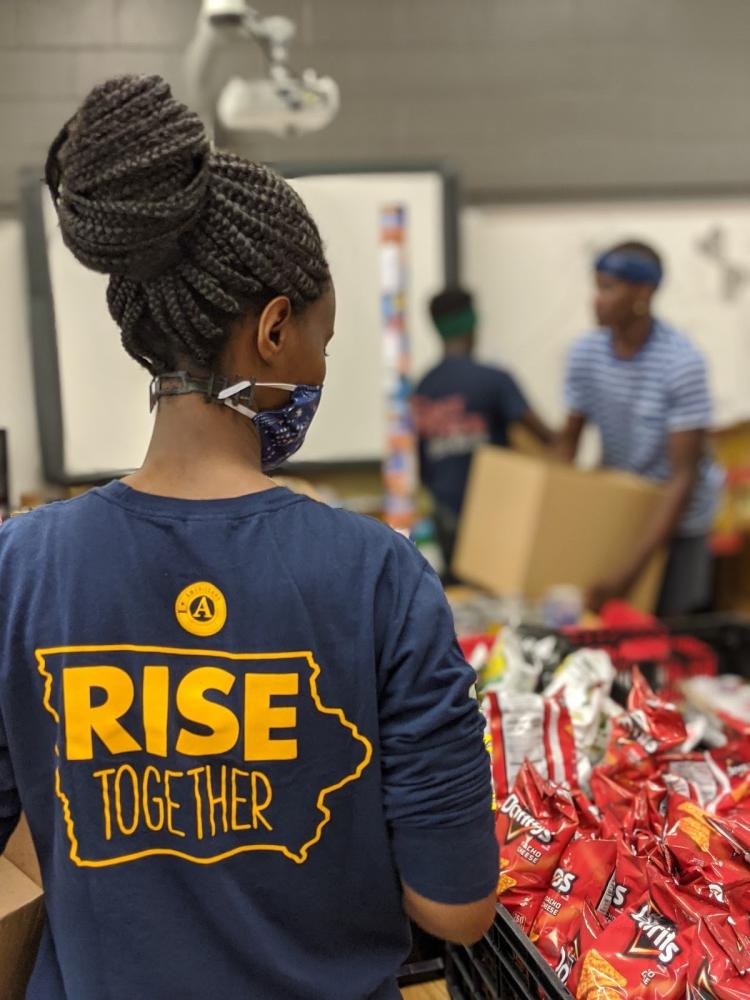 Keeping up with the changes in public health guidance, employment safety and underemployment benefits and mental health guidance during the COVID-19 pandemic is nearly a full-time job for most English-speaking residents of Iowa. For residents without English skills, the nonprofit EMBARC (Ethnic Minorities of Burma Advocacy and Resource Center) is stepping in to fill the information gap. 

EMBARC is stretching its resources to meet the needs of everyone who contacts staff and advocates, despite the sudden changes affecting EMBARC's face-to-face engagement model, said Erin Kim-Cho, director of communications and development for EMBARC. 

"We were doing a lot of work in the community helping them directly. They would come in for translation help, reading the mail, basic needs like calling the doctor, and we would do that directly. We would do it face-to-face because that's the easiest way to do it," Kim-Cho said. 
When COVID-19 arrived in Iowa, EMBARC had to shut down face-to-face services just as community members were struggling to receive updated information in their own language. Out of the more than 8,000 individuals in the state that EMBARC serves, 95% of them are considered essential workers, according to the organization. 
"We were hearing from the communities that they're unable to get information about anything about COVID. … When a crisis comes in, information becomes extremely important, and everything was changing each day about COVID, how the state of Iowa was going to respond to it and how the country was responding to it. So we were finding that critical and correct information was not getting to the communities because of that language barrier," Kim-Cho said. 

Beginning in mid-March, EMBARC shifted quickly. Through a new crisis response website, the organization launched a daily newsletter four days a week in 11 languages, three newscasts and in-depth video resources to push information out to Iowans. EMBARC and RISE AmeriCorps launched the Crisis Helpline and Virtual Access Center in 10 language lines to connect non-English-speaking Iowans with community members who speak more than 25 languages and dialects who assist with unemployment, health and social services and other critical needs. The help line received 2,504 calls between March 25 and July 7, including at least 10 clients who needed translation assistance before calling 911. In June, EMBARC and the Iowa Commission of Latino Affairs partnered to add a Spanish help line to the lineup. 

"We got a call from someone in New York City … saying, 'I can't contact my mom in Waterloo. There's not other family in Waterloo around her, can you help me locate her?' And we found out Mom was in the hospital nonresponsive, literally in a coma due to COVID. It happened so fast that there was no way for her to contact her son," Kim-Cho said. "EMBARC got in the middle of that, did all the translation for the family. Everything's fine now, but at the time, it was so critical. EMBARC was able to do that for the family and work with the hospital."  

Work that can't be done online or over the phone prompts staff or volunteers to show up at community members' homes. In many of the 936 unemployment cases EMBARC worked with, individuals attempting to claim unemployment didn't understand the requirements or instructions and could be left waiting for weeks on support that wasn't processed. EMBARC staff and volunteers began asking residents to leave their documentation at the front door, and advocates would call them on the phone while filling out paperwork on the doorstep. Families isolating after showing symptoms or testing positive for COVID-19 call EMBARC to request food delivery.

"We're the only organization in Iowa that does this for the refugee community, directly connecting them with all of these things," Kim-Cho said. "There's a lot of food pantries out there, there is a lot of help out there, but [community members] can't call the food pantry to ask questions about the food. They can't go to the pantry to pick up the food. So there is that gap that we fill." 

Student registration for the 2020-2021 school year has been a challenge as school districts are still finalizing attendance or online class plans. Families that don't have access to devices or internet service no longer have the option to complete registration at district offices. By the end of the 2020 spring semester, community members had been translating emails over the phone sent by school districts to family members, and EMBARC anticipates those families will struggle in districts with full or partial online-learning models, Kim-Cho said. 

"Many of them don't know how to do it. Many of them don't have a computer and internet access, and a lot of the schools are now requiring you upload proof of residence and things like that online," Kim-Cho said. "I'm trying to connect with the Department of Education and a lot of the school districts so that we can be that bridge for them in disseminating information. … It's become a very big challenge for us." 

EMBARC is preparing to reopen its location to community members as the state continues to reopen doors. Yet as protective screens are installed, the organization is also planning for what happens if a second wave of COVID-19 begins affecting community members.

Kim-Cho has been collecting stories from parents, caregivers and survivors to highlight through EMBARC's website. 

"We still see a lot of people getting sick, but now we're seeing people just not being able to support themselves financially," Kim-Cho said. 

"We're very desperate for outside help so that we can actually do this work for these essential workers in Iowa," she said. "We're trying to find good supporters within our communities who are our allies, who would be our advocates."